Discover more from CODAME
Everything ART+TECH
Over 15,000 subscribers
Register Now! 8/30 Interactive Installation Workshop (Needs Arduino)
5 part #CodeArtTogether series with Mirabelle Jones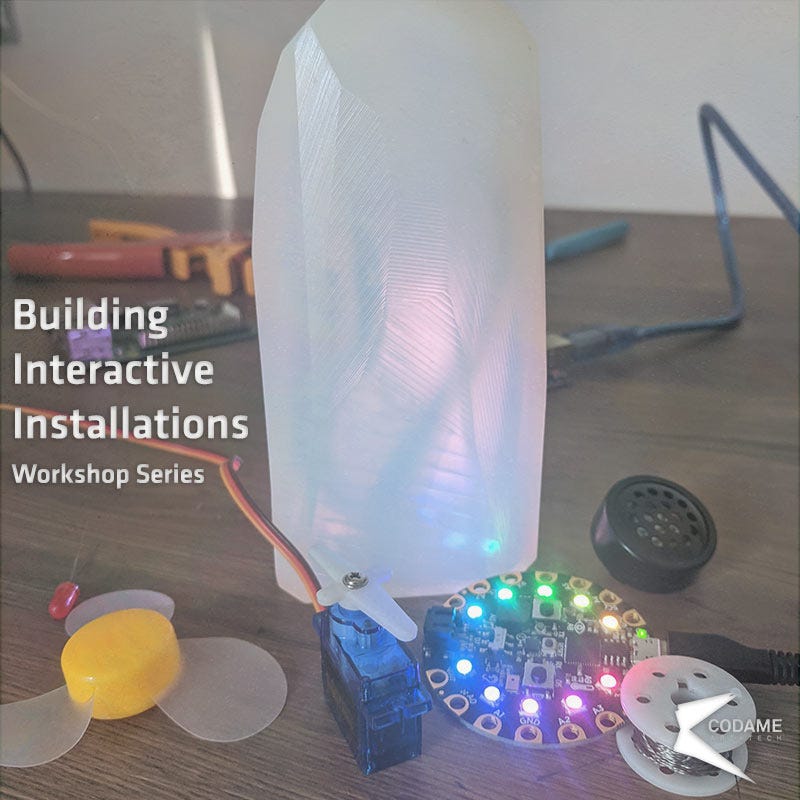 http://codame.com/events/series-building-interactive-installations
Learn Arduino and Touch Designer skills to build the interactive installation of your dreams! Playgrounds like Meow Wolf and Museum of Ice Cream have taken the art world by storm but micro controllers for immersive art has a rich history that includes Disney Park Imagineers. Explore how sensors and inputs can be used to trigger meaningful shifts in LED lighting, projection, and sound.
Each of the 5 workshops can be taken alone, but you'll get the most out of joining for the entire ride. The sessions are suitable for beginners to both Arduino and TouchDesigner. They will also be helpful to seasoned developers and designers looking to expand on their existing knowledge of interactive systems.
Please note an Arduino Circuit Playground Express, some Banana Clips, and a USB Cable are required to follow along. Because of unpredictable shipping times we suggest ordering these ASAP!
Code of Conduct for all attendees.
Instructor
Instructor Mirabelle Jones
Mirabelle Jones is a creative technologist, writer and interdisciplinary artist from Oakland currently living in Copenhagen. Recently, they served as the Senior Designer / Developer for Meow Wolf's interactive technology team with a specialization in interactive and immersive storytelling using sensors, responsive lighting and sound, 3D modeling / 3D printed sculpture, augmented and mixed reality, and computer vision.
Learn more about Mirabelle Jones
Invite Your Friends!

Connecting, Building, and Sharing are the pillars of CODAME #CodeArtTogether workshops:
Connecting artist and tech community together, learning from each other.

Building tangible outcomes in the time frame of the workshops.

Sharing your work is our inspiration to be showcase during and after the workshops.
Workshops are great for connecting with co-workers, friends, or family… even remotely! They cultivate space to play, which guides sense-making and sparks innovation.
In our workshops attendees become featured artists with the option to show their workshop creations in CODAME galleries. 
Our definition of "Code Art" is broad. "Code" lends many facets of it's meaning:
Exposing subconscious meaning behind symbols and identifying signals where others see noise.

Systematically baking art and creativity into every day life and offices.

And yes, even the obvious programmatic instructions for computers and conceptual art instructions for people 😉
Learn more at http://codame.com/projects/code-art-together, register for upcoming workshops at https://codame.com/workshops, and invite your friends!
Become an ART+TECH Advocate!
Join us! 💪 Sponsor, Volunteer, or lead a workshop.
What topics grab your curiosity to learn or teach?
Let us know through our call for workshops.
All proceeds will be split with the participating artists. 
Donations are always welcome.
CODAME is a member of Intersection for the Arts
a non profit 501(c)(3) organization.
Thank you for your support!
💟 👾 💜 👾 💟