CODAME Crypto Art Collection
Featuring Char Stiles, Janessa Robinson, Jordan Gray, and Snow Yunxue Fu on SuperRare

Since 2010, CODAME has been on a mission to make technology accessible to artists and their artworks accessible to the public. We have provided unique opportunities for artists through our online sales, informative workshops, exciting festivals, and now, a huge collaboration in Crypto Art. 
CODAME is thrilled to share with you our partnership with one of the leading online Crypto Art platforms, SuperRare, in launching the selected works of our artists: Char Stiles, Janessa Robinson, Jordan Gray, and Snow Yunxue Fu.
This partnership is only one of the many initiatives that CODAME offers to extend the reach of our artists this year. CODAME recently launched ART+TECH Gallery, where you can buy art & merchandise from some of the 300+ artists that we've had the privilege to partner with over the last ten years.
CODAME is helping artists enter the world of Crypto Art by providing education, application assistance, onboarding, and marketing guidance or support. CODAME also works with each artist to include a physical piece such as an Infinite Object, a print, or a t-shirt that is available as a compliment to each digital tokenized piece. These pieces are available for individual sale or as a bundle with discount opportunities. You can also include these as a gift with purchase!
CODAME is excited for this opportunity to showcase these artists' work on SuperRare and is looking forward to launching more artists in the future! Our artists have a diverse range of digital art offerings including AI, Generative Art, Algorithmic Art, 3D, and VR, so it would be a shame to miss out on their talent.  
Discover the four CODAME artists and show your support to their genesis pieces featured only on SuperRare:
CONJOIN ONE 
by Snow Yunxue Fu 
As a collection of floating liquid that forms the shapes of the bodies together at times and then disintegrates into other objects and parts, witness how this series underlines the connectivity we have with one another, in both material and immaterial ways. We have a long-term dilemma for we have a short-term body. Working with 3D software and CG imaging technology, Fu creates scenes of experimental abstraction that translate the concept of liminality into the subliminal digital experience.
Available exclusively on SuperRare, the other CONJOIN Chapters 2 and 3 will also be available in the upcoming months. 
Snow's work is featured at the CODAME ART+TECH Gallery shop.
About Snow Yunxue Fu 
Snow Yunxue Fu is a US-based Chinese-born New Media artist, Curator, and Assistant Arts Professor in the Department of Photography and Imaging at the New York University Tisch School of the Arts. Using topographical computer-rendered images and installations, her practice merges historical, post-photographic, philosophical, and painterly explorations into the universal aesthetic and definitive nature of the techno sublime. 
SCREEN DYE 
by Char Stiles
Let your eyes be mesmerized by this nonrepresentational time-based form inspired by tie-dye and water caustics. These shapes were created by GLSL code, using math to describe shape, color, and flow.
Char's other artworks are showcased at the CODAME ART+TECH Gallery Shop.
About Char Stiles
Char Stiles is a multidisciplinary digital artist. She works using emerging technologies as tools for expression. Using computational systems and algorithms that she often creates, she produces pieces that span disciplines such as video, dance, interactive installation, performance, and online works. She has received awards from the Carnegie Museum of Art, exhibited internationally, and gave talks and workshops at Carnegie Mellon University, Massachusetts Institute of Technology, and New York University.
Char teaches a series of amazing Shaders Workshops through CODAME and the next one is coming up on October 25th — Webcam with Shader which is geared towards any level of experience. Besides showcasing the artwork of our artists, CODAME encourages their creativity by letting them teach techniques to aspiring artists in workshops. The initiative not only hopes to give birth to more artworks but also to empower more artists to get exposure through our platform and online shop.

LIGHT BARCODE
by Jordan Gray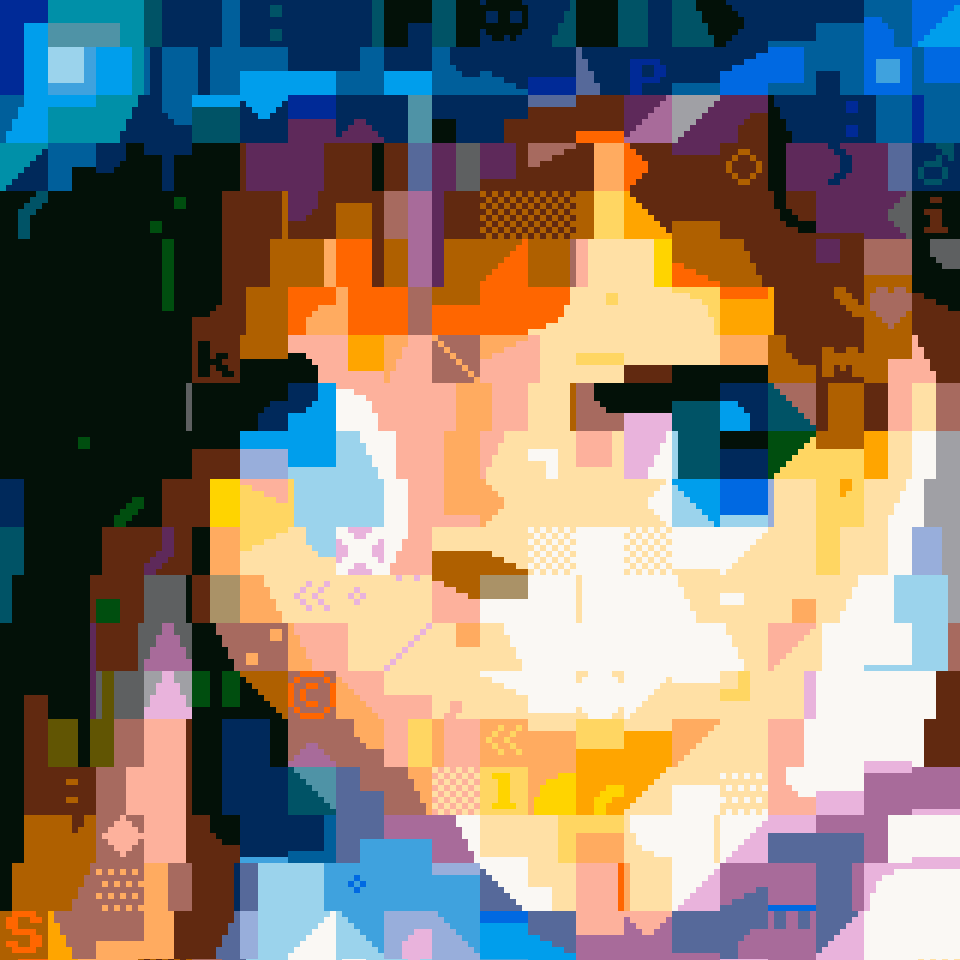 Created as a detailed close-up featuring the intricate code and secret messages hidden in each unique piece, get lost exploring the vibrant blocks in a UHD PNG. Combine your collection of scrolling ANSI videos into an ambient art installation. 
Exclusive to SuperRare, the first owner to possess both Light Barcode Front & Back will receive the designs as a printed dakimakura cover (160x50cm, 2wt).  A new design will drop every month, keeping pace with traditional circles releasing body pillow covers.

LoFi Uncanny (series) is Dakimakura Pillow Art for the AI Age. You're invited to a valley on the softer side of screens. Navigating uncertainty is our only path to progress, so enjoy the ride with weird vibes! More detail about this process and the tradition of rare Dakimakura collecting can be found here. Techniques used in this piece are Neural Style Transfer, ANSI Encoding, Video Animation.
Jordan's other artworks are also available at the CODAME ART+TECH Gallery Shop.
About Jordan Gray:
Jordan Gray: (aka starPause the k9d) is a co-founder of CODAME, dedicating 10+ years to celebrating the intersection of ART+TECH. Besides analog video synthesis, he loves bicycles, photography, electronic music, dayan qigong & haiku. Jordan has been a digital media leader for over 20 years. His earliest projects pioneered the digital distribution of music and manga. 
PARIS
by Janessa Robinson
There's a reason why artists love Paris. There's a je ne sais quoi that breathes through the city. Experience it yourself through the original photography from Janessa's travels and a mix of graphics effects implementing her signature vibrant color palette. 
Janessa's work is also listed at the CODAME ART+TECH Gallery Shop.
About Janessa Robinson:
Janessa Robinson is a multi-disciplinary artist whose work brings audiences along as she explores her life's journey. She has a fancy for writing poetry, music, film, graphic design, modeling, and live performance. Janessa is a singer/songwriter and rapper by the stage name WPK (Warrior Princess King).
Janessa has hosted virtual game shows to ServiceNow's audience of 12,000+ people as well as performed music and poetry in virtual fundraisers for Root & Rebound. Her short film "Through the Fire" appears in TIME magazine's Optimist Issue as part of Ava Duvernay's video project.
----
About Superare
SuperRare is a marketplace to collect and trade unique, single-edition digital artworks. Each artwork is authentically created by an artist in the network and tokenized as a crypto-collectible digital item that you can own and trade. Indeed, it's a new way to collect on the internet, and interact with art and culture online!
Any artwork featured in SuperRare is a digital collectible – a digital object secured by cryptography and tracked on the blockchain. That's just a fancy way of saying they're probably scarce items that can be collected, and that can hold value just like cryptocurrencies: ether and bitcoin.
About CODAME
CODAME shapes the future by building playful ART+TECH projects and hosting inspiring events and workshops. Over 100,000 industry visionaries have been inspired by projects built with CODAME and showcased at the annual ART+TECH Festival. Companies like Adobe, Capital One, GitHub, Google, and Salesforce have benefited from customized lectures, workshops, team off-sites, and interactive installations led by CODAME.